For April's show, we're gladly returning to another great venue – The Center@862 in Scarsdale. Fans love this spot because it's just across the street from the MetroNorth station and surrounded by tasty pre-show dining options.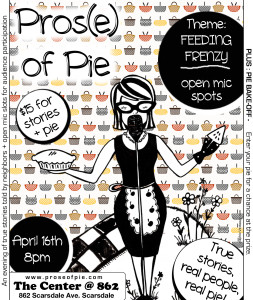 When: April 16th, 8pm
Theme: FEEDING FRENZY
Venue:  Center @ 862
             862 Scarsdale Ave – Scarsdale
About the theme: This month we're looking for stories about appetites and consumption – in your belly, in your soul, in your business. A family meal you'll never forget? The time gluttony got the best of you? Did you make your business thrive? Did your competitive streak take over? The best meal you ever made or ate? Or the one your dog got to before anyone tasted it? Did you have a few when should have stopped at two?  We want to hear any stories related to filling your bellies, your souls, or your pockets!
Pie bakers welcome: Tempted to see how your pie-baking skills stack up against your neighbors? Here's an incentive for entering a pie in our bake-off. Your pie gets you one free admission! Please keep in mind: to get your free ticket, you MUST let us know what type of pie you're bringing a pie at least TWO days in advance of the show.  Get in touch soon with the type of pie and we'll reserve your spot!
Storytellers: We'll have prepared storytellers and plenty of open mic slots. If you have a great story you'd like to share, email co-producers Ivy Eisenberg or Zak Shusterman. Don't worry, there'll be plenty of open mic slots that night too.
We all have a story in us. Come share, listen, and eat!