Get ready for some outstanding storytelling this October!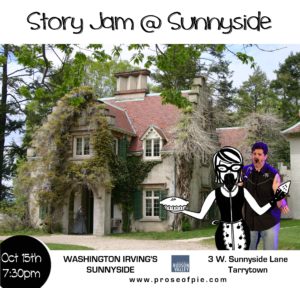 We're especially excited to be working with Historic Hudson Valley to co-produce an evening of storytelling at Washington Irving's Sunnyside.  Instead of our usual monthly theme, we're celebrating our form of great American storytelling at the home of America's first great author.
Two hundred years ago, Irving gave you Ichabod Crane, Rip Van Winkle and the Headless Horseman. For this special night, we bring you a mix of Moth superstars, local storytelling masters, and seasoned entertainers sharing their best true stories. Adventures and embarrassments, loves and joys, achievements and defeats – you'll experience them all.
Join us under a grand tent, with Irving's stately home and the beautiful Hudson River providing the backdrop for the season's best evening of storytelling.
This is one you won't want to miss. We're expecting tickets to sell-out, so get yours now!
When: Oct 15, 7:30pm doors (8pm show)
Theme: STORY JAM @ Sunnyside
Venue: Washington Irving's Sunnyside, Tarrytown
*One more important change to note : Due to the size of expected audience, there'll be no pie bake-off at this event. There will be food & drink concessions. Check our schedule for other opportunities to indulge your monthly pie cravings!
Photo/Art Credits: Karen M. Sharman; Liflander Photography; Kate Chanba.