FIVE YEARS!
That's how long
Pros(e) of Pie
been joining us for true personal tales told by friends, neighbors, and pros. We've taken you to barns, museums, historic theaters. Where will we go next?  Thanks to all the storytellers, pie bakers, volunteers and fans who've helped us keep this wonderful series going.
In July, join us at Ossining's Bethany Arts Community to celebrate 5 years of storytelling in the Hudson Valley. Hear stories from people who've been with PoP since the beginning, as well as stars that have only recently joined fun.
Featuring Mark Pagán, Michele Carlo, Joe Charnitski, Jim Keyes, and Ina Chadwick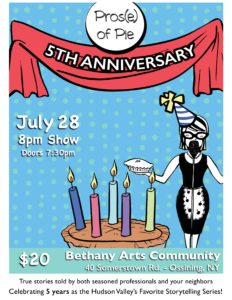 When:  July 28, Doors 7:30pm, Show 8pm
Venue:  Bethany Arts Community
             40 Somerstown Rd – Ossining
ABOUT THE SHOW: Join us to listen to storytellers and humor writers form around the region tell true personal tales on the monthly theme in a Moth-inspired format. Plus opportunities to participate if you dare!
PLUS PIE: To start the evening, you'll indulge in a taste of pie made by local "pie-trepreneurs". You'll please your belly and warm your soul.
Entry fee includes pie tasting, beverages, and great entertainment!  We sell out many months, so be sure to buy your tickets early!
HAVE A PIE FOR THE BAKE-OFF?
Admission is free if you bring a pie for the bake-off BUT YOU MUST NOTIFY US at least two days before to receive your free ticket.  And if your pie gets the most votes, you win the prize and proudly bear the title of this month's PieMaster!