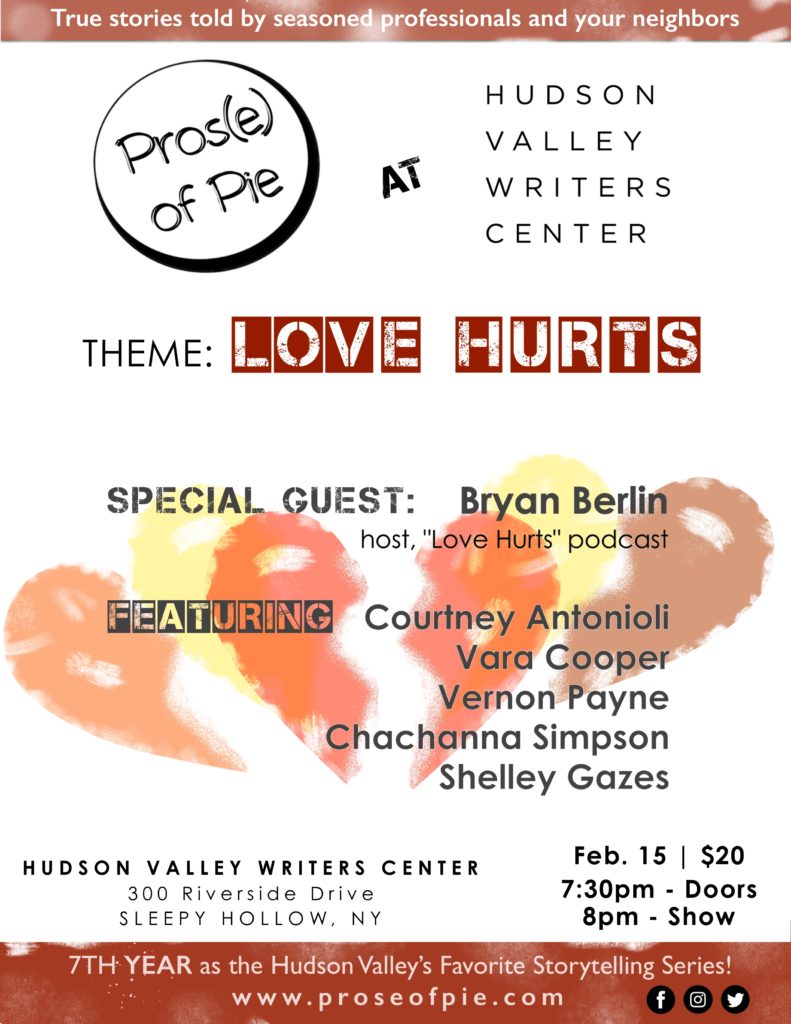 On February 15, PoP returns to the riverfront Hudson Valley Writers Center for a "LOVE HURTS" themed show featuring both returning faves and storytellers making their PoP debuts.
***Please note, for logistical reasons, there'll be no pie at this show.
SPEICAL GUEST:
Bryan Berlin – host, Love Hurts podcast

FEATURING:
Courtney Antonioli- The Moth Radio Hour; YouTube's Stay Golden
Vara Cooper – Moth StorySlam champ; 2017 National Storytelling Festival champ
Vernon Payne – Comedian; Now You're Talking – A Storytelling Show; New York STORY Exchange
ChaChanna Simpson – Mistakes Were Made; True Stories, Told Live; award-winning writer
Shelley Gazes – published in Journal News/lohud; HuffPost; Moth StorySlams
When:  Feb 15, Doors 7:30pm, Show 8pm
Theme: LOVE HURTS
Venue:  Hudson Valley Writers Center – 300 Riverside Dr. – Sleepy Hollow
>> GET YOUR TICKETS HERE <<
ABOUT THE THEME: Not exactly anti-Valentines, more like alt-love stories. Have you had your heart crushed? Do you have an unusual relationship with an Ex? Have you been navigating your own gender and sex preferences? Did you find love in an unexpected place? Heck, did you make love in an unexpected place?  
ABOUT THE SHOW: Join us to hear storytellers from around the region tell true personal tales on the monthly theme in a Moth-inspired format. You can sit back and enjoy the show but there are 2 options for audience to join the fun:
1) sign up for a 5-mins open mic slot or
2) submit an anonymous answer to a written prompt that we'll read off for you.
Either way, we'll all be there to support and share.
*NOTE: NO pie bake-off at this show for logistical reasons. But we'll be back with tasty bites soon!