We're kicking off our seventh year as the Hudson Valley's longest running storytelling series by bringing back our free community shows. No theme this month to make it as easy as possible for you to join the fun. All open-mic, all YOU!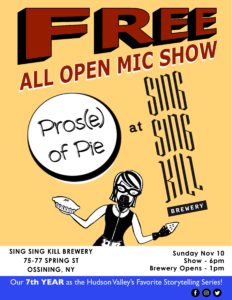 We're so excited to be bringing you a free, all open-mic show at our favorite local brewery – Ossining's Sing Sing Kill Brewery. To make it as easy as possible for as many of you as possible to join the fun, there'll be no theme at this show. But all the other Pros(e) of Pie storytelling rules still apply:
1) only true stories
2) only stories you experienced yourself
3) no notes, no reading
4) stories must be no more than 5 mins time long
If you want to get in on the fun, swing by a little early to sign up for one of the evening's open-mic slots. The Brewery will be open from 1pm in case you need to start building up your courage early.
No pie at this free show, but SSKB has plenty of freshly brewed options on tap, as well as a range of tasty savory treats.
When:  Sunday, NOV 10, 6pm
Theme:  No Theme. All Stories Welcome!
Venue:  SING SING KILL BREWERY
75-77 Spring St. –  Ossining, NY
STAY TUNED as we dive in to our 7th year.