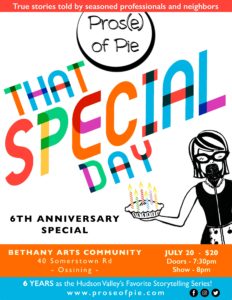 Join our 6th anniversary celebration at Ossining's Bethany Arts Community with a "THAT SPECIAL DAY" themed show. You'll hear a mix of returning PoP alumni and some spectacular first-timers we're so excited to bring up to the Hudson Valley. We're particularly delighted that this moth's show features two Ossining locals-  champion storyteller Joe Charnitski and first timer Ro Moran.
FEATURING:
Joe Charnitski – 2-time Moth StorySlam Winner
Stacey Bader – 6-tim Moth StorySLAM winner and Moth GrandSlam winner
Bridget O'Neill – Moth, RISK!, Yum's the Word
Tracey Starin –  Gather NYC, Take Two Storytelling, RISK!
Laura Maltz – Fail Better Storytime, NY Story Exchange, Grackle
Ro Moran – manages non-profit community center for immigrants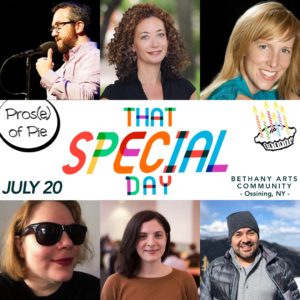 When:  July 20, Doors 7:30pm, Show 8pm
Theme: THAT SPECIAL DAY
Venue:  Bethany Arts Community
40 Somerstown Rd – Ossining
>> GET YOUR TICKETS HERE <<
ABOUT THE THEME: Did you get married? Find your missing puppy or birth parent? Dump your cheating spouse? Were you hired? Fired? Accepted into Harvard? Rejected from SUNY Albany? Did everything go perfectly? Did everything go wrong? Did that day turn your life upside down – or right-side up?
ABOUT THE SHOW: Join us to listen to storytellers and humor writers from around the region tell true personal tales on the monthly theme in a Moth-inspired format. You can sit back and enjoy the show or join the fun: sign up for a 5-mins open mic slot or submit an anonymous answer to a written prompt that we'll read off for you. Either way, we'll all be there to support and share.
PLUS a pie bake-off: To start the evening, you'll indulge in a sampling of pies made by local "pie-trepreneurs" and vote for your favorite between stories. You'll please your belly and warm your soul.
Entry fee includes pie tasting, beverages, and great entertainment!  We sell out many months, so be sure to buy your tickets early!
HAVE A PIE FOR THE BAKE-OFF?
Admission is free if you bring a pie for the bake-off BUT YOU MUST NOTIFY US at least two days before to receive your free ticket.  And if your pie gets the most votes, you win the prize and proudly bear the title of this month's PieMaster!