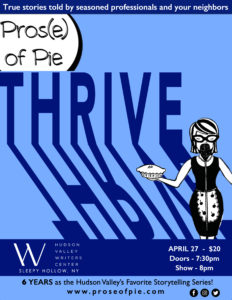 We're returning to the gorgeous Hudson Valley Writers Center in April. If you haven't been there yet, you're going to love the wood-paneled walls of this former train station. Plus, they offer some of the best views of the Hudson and the new Tappan Zee Bridge.
***Please note, for logistical reasons, there'll be no pie at this show.
When:  April 27, Doors 7:30pm, Show 8pm
Theme: THRIVE
Venue:  Hudson Valley Writers Center
300 Riverside Drive – Sleepy Hollow
>> GET YOUR TICKETS HERE <<
ABOUT THE THEME: What does it take to THRIVE? Is it making the most of opportunities that present themselves? Or not letting the obstacles in your path stop you? Is it about getting out alive, or coming out a superstar? We want to hear all your Thrive tales.
ABOUT THE SHOW: Join us to listen to seasoned storytellers and humor writers from around the region tell true personal tales on the monthly theme in a Moth-inspired format. You can sit back and enjoy the show or join the fun: sign up for a 5-mins open mic slot or submit an anonymous answer to a written prompt that we'll read out loud for you. Either way, we'll all be there to support and share.
We sell out many months, so be sure to buy your tickets early!