We're kicking off 2017 by returning to the Sleepy Hollow Firehouse Hall. We're proud to be one of the events bringing attention to this beautiful community venue.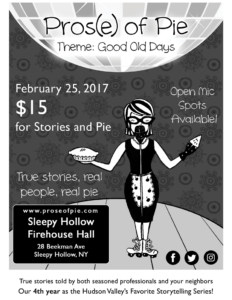 When:  Feb 25, Doors 7:30pm, Show 8pm
Theme: GOOD OLD DAYS
Venue:  Sleepy Hollow Firehouse Hall (enter thru Village Hall)
             28 Beekman Ave – Sleepy Hollow
About the theme: This month we're looking back to times we each remember fondly. Was there something that could have only happened at that certain time of your life? Or a certain point in history? Was the world a different place? The day you overcame a childhood bully, or seized unexpected victory? Was there a family tradition you want to relive? Or remember dating before Tinder? Or maybe the good old days weren't so good after all. We want to hear the good, the bad and the ugly about that 'other' time..
Pie bakers welcome: Tempted to see how your pie-baking skills stack up against your neighbors? Here's an incentive for entering a pie in our bake-off. Your pie gets you one free admission! Please keep in mind: to get your free ticket, you MUST let us know what type of pie you're bringing a pie at least TWO days in advance of the show.  Get in touch soon with the type of pie and we'll reserve your spot!
Storytellers: We'll have prepared storytellers and plenty of open mic slots. If you have a great story you'd like to share with our audiences, email co-producers Ivy Eisenberg or Zak Shusterman. Featured storytellers get a free guest admission! Don't worry, there'll be plenty of open mic slots that night too.
We all have a story in us. Come share, listen, and eat!