Pros(e) of Pie is returning to the
Hudson Valley Writers' Center
in Sleepy Hollow. Join as for an evening of true storytelling in a historic train station overlooking the Hudson River. This is one of the prettiest venues in the region and we're delighted to be sharing it with you.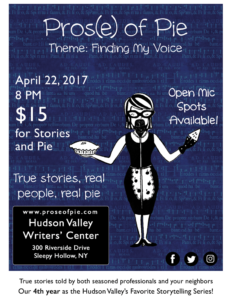 When:  
April 22, Doors 7:30pm
,
Show
8pm
Theme:
FINDING MY VOICE
Venue:  
300 Riverside Dr – Sleepy Hollow
About the theme: In April, we're sharing stories about discovering a part of ourselves. Do you remember that first time you stood up for yourself? Have you written the great American novel? Was there a teacher that helped you finally express your feelings? Maybe you broke with your upbringing and took a stand your family was not happy about. Or did you take a leap sharing who you really are? We want to hear about your breakthroughs, your life lessons, and your heart aches.