Prose of Pie
 has been the Hudson Valley's most popular monthly storytelling series for over 4 years. In March, we're collaborating with the Friends of the ITHT to bring our show to the
Irvington Town Hall Theater
for the first time. Did you know the theater is a replica of the one Abraham Lincoln was shot in? How appropriate of our theme this month:
CAUGHT OFF GUARD
!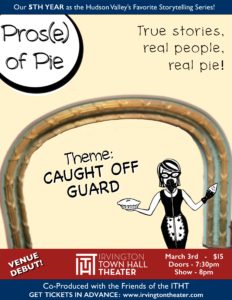 When:  March 3, Doors 7:30pm, Show 8pm
Theme: CAUGHT OFF GUARD
Venue:  Irvington Town Hall Theater
             85 Main St – Irvington
ABOUT THE THEME: We've all had surprises. They can be the best or worst thing imaginable. An act of kindness that warmed your heart. A medical scare that changed your forever. The prank that you're gang is still talking about twenty years later. We want to hear how you faced the unexpected and how it all turned out.
ABOUT THE SHOW: Join us to listen to storytellers and humor writers form around the region tell true personal tales on the monthly theme in a Moth-inspired format. Plus opportunities to participate if you dare!
PLUS a pie social: To start the evening, you'll indulge in a taste of pie made by local "pie-trepreneurs". You'll please your belly and warm your soul.
Entry fee includes pie tasting, beverages, and great entertainment!  We sell out many months, so be sure to buy your tickets early!
***PIE UPDATE:
For logistical reasons, this evening's pie service will be a pie "social" rather than a bake-off. Everyone gets to enjoy one slice of pie with admission. There'll be no voting on pies tonight.
Admission is still free if you bring a pie BUT YOU MUST NOTIFY US at least two days in advance to receive your free admission.