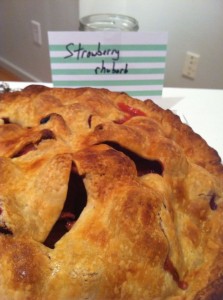 What a wonderful debut for Prose of Pie on June 1st. The theme was Transitions and all the stories did it proud. Many thanks to our premier line up of storytellers, the folks brave enough to sign up for open mic storytelling, and to all our pie bakers.
The evening's stories included: a great tale about the odyssey of entering a different world in her own neighborhood; a nonstop laugh riot about parenting and the ordeal of living with a grandmother competing with hired help for maternal supremacy; a professional entertainer sharing the development of his skills from early childhood in catholic school to singing yom kippur services in a cavernous synagogue.
We heard some great open mic tales as well, spanning the range from teary-eyed laughter to a heart-rending personal adventure in the big city.
Bring on to the pie!
It was tough picking a winner from among all the delicious pie entries. There were half a dozen entries. In the end, the first Pros(e) of Pie "Best Pie" winner, selected by audience vote, was a giant apple crumble pie. The winner received a $20 gift card to Chef Central.
And one lucky raffle winner got a lemon meringue pie to bring home.
See you all on July 13 for the second installment. The night's theme will be : Bounty.
Photos of some of our storytellers :