We've been at the Chautauqua Institution in western New York teaching a fully booked week-long storytelling class called "Telling the Stories of Your Life". This is the second year in a row we've been invited to add our brand of storytelling to the curriculum.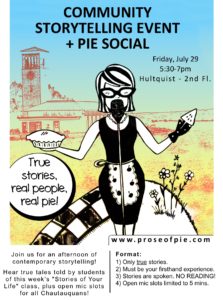 On Friday, July 29, 5:30-7pm, at Hultquist Center, 2nd floor, we'll be presenting a special installment of PoP.  Join us to hear students from our class and brave members of the Chautauqua community tell their true, personal stories publicly – many for the first time!
Hope to see you and hear you there!