Get ready for the biggest storytelling event of the season!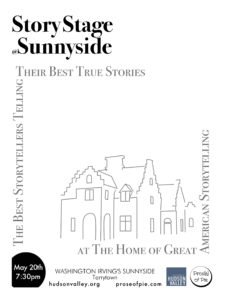 Following on the success of our October collaboration with Historic Hudson Valley, we've joined forces once again to present – STORYSTAGE @Sunnyside!  This is an extra special showcase of the best storytelling you'll find anywhere in the country. Great modern storytelling at the home of America's first great storyteller.
Like the last event at historic Sunnyside, we'll be under a grand tent, alongside Washington Irving's historic home with the glorious Hudson River as our backdrop.
This all-star line-up includes some of the nation's most successful and beloved storytellers, including:
MATTHEW DICKS – 29x Moth StorySLAM champ, 4x GrandSLAM champ; award-winning best-selling author
JAMIE BRICKHOUSE – 4x Moth StorySLAM champ; 2017 FRIGID Fest Audience Choice Award; acclaimed author
TRACEY SEGARRA – 3x Moth StorySLAM champ, GrandSLAM Champ; host Now You're Talking storytelling series
JEFF SOLOMON – Moth StorySLAM champ; award-winning playwright/actor; founder Houses on the Moon theater company
ROBIN GELFENBIEN – acclaimed comedian, storyteller and writer; creator Yum's The Word storytelling series & podcast;
This is one you won't want to miss. We're expecting tickets to sell-out, so get yours now!
When: May 20, 7:30pm doors (8pm show)
Theme: STORYSTAGE @ Sunnyside
Venue: Washington Irving's Sunnyside, Tarrytown
*One more important change to note : Due to the size of expected audience, there'll be no pie bake-off at this event. There will be beer, wine, savory samosas from Samosa Shack and tasty pies from Red Barn Bakery on sale. Check our schedule for other opportunities to indulge your monthly pie cravings!